Lecturas graduadas en inglés
Inicio » Lecturas graduadas en inglés » Nivel 1 » Ryokan Life
Ryokan Life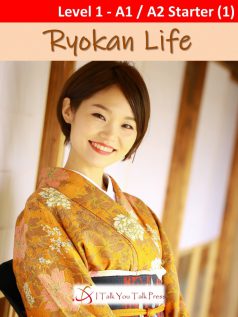 Yuka Nakata studies English. Her family owns a ryokan (Japanese-style hotel) near Kyoto. Now it is August. Yuka is helping her family at the ryokan. Yuka is happy. She can meet many guests and she can practice her English. Many things happen at the ryokan.
Two guests go out for a day, but don't come back. Can Yuka find them? A guest loses his passport. Can Yuka help him? Is there a ghost in one of the rooms? Yuka tries to solve the mystery.
Working at the ryokan is hard, but it is always interesting for Yuka! Enjoy five stories from Yuka's summer at the ryokan!