Lecturas graduadas en inglés
Inicio » Lecturas graduadas en inglés » Nivel 1 » A Homestay in Auckland
A Homestay in Auckland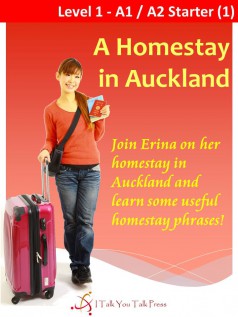 Learn useful homestay phrases through a story!
Erina Adachi is from Nagoya. She is nineteen. She is a university student. She studies English at university.
It is August. Erina is travelling to New Zealand. She will stay with a New Zealand family.
She will go to a language school for two weeks. Erina wants to speak a lot of English.
She also wants to make new friends and to go sightseeing. She is very excited.
Join Erina on her homestay and learn some useful phrases!