Home » English Graded Readers » Level 4 » Chi-obaa and Friends
Chi-obaa and Friends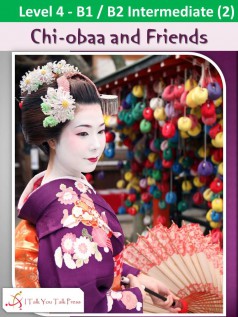 Nakashige-cho is a very small town in Western Japan, but there's always something happening there.
There are two stories from Nakashige-cho in this book.
Hatsuko is very puzzled. Every day, she puts flowers in front of a small shrine in memory of her daughter, but recently the flowers disappear. Who is taking them and why? Hatsuko asks Chi-obaa to find out. Together they solve the mystery and make sure it won't happen again.
A sixty-year-old secret forces Chi-obaa and her closest friends to travel to Tokyo. They meet some surprising people from the past. Somehow they must find a way to balance old memories and modern life.