Home » English Graded Readers » Level 4 » A Wife and Mother
A Wife and Mother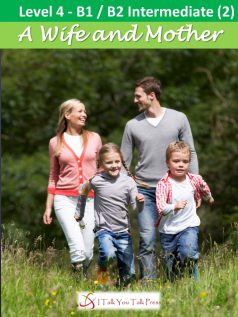 Libby Blake is beautiful, talented and very popular. She lives in a small town called Salma. Libby is married with two children. People in Salma think she is the perfect wife and mother. But one night, she disappears. It seems that she walked out the house leaving everything behind.
Questions are flying around the town. Was she kidnapped? Was she murdered? Did she kill herself? Did she have a secret lover? Nobody knows. She is never heard from again.
Years pass, nobody is looking for the woman called Libby Blake. She is almost forgotten. Then a strange coincidence brings all of the people involved together. Finally the mystery is solved.