Lecturas graduadas en inglés
Inicio » Lecturas graduadas en inglés » Nivel 3 » Summer Days
Summer Days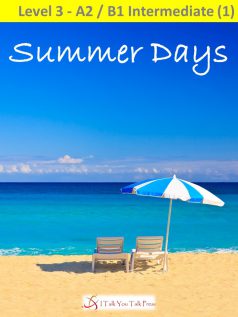 There are five short stories about summer in this book.
Paul is sad. His girlfriend doesn't want to see him anymore. So he goes to his family's summer house by the lake with his brother. He gets help from a surprising person and by the end of the story he is a happy man. Rachel is excited about her vacation in the south of France. She wants to go to the beach every day, but it rains. She is annoyed, but thanks to the rain, she has a great vacation. Four friends go camping. It is hot and dry and there is the danger of fire. The friends have to work hard to stop a disaster.
Enjoy these stories and two more about hot summer days!