Home » English Graded Readers » Level 1 » Everyday Heroes
Everyday Heroes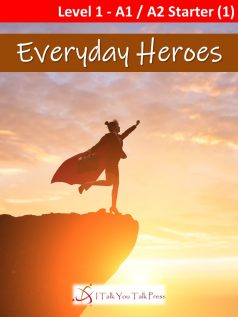 What do you think of when you hear the word "hero"? Do you think of Superman, or Batman? Of course, they are heroes. But sometimes, normal people can be heroes too. There are five stories in this book about everyday heroes.
  Oliver is a pizza delivery driver. One evening, he goes to a house to deliver some pizzas, but something is wrong. Can Oliver help the family?
   Lydia is going to her wedding, when a bad thing happens. Luckily, some surprising heroes arrive to help her.
  Lucy is excited. She is going to Hawaii for a vacation. There is an emergency on the plane, and only Lucy can help. Can she become a hero? Enjoy these and two more stories!