Home » English Graded Readers » Level 2 » Neighbours
Neighbours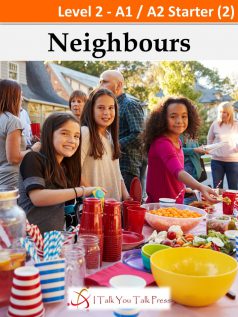 Everyone has neighbours, Maybe our neighbours are nice or interesting. Or maybe they are difficult or strange. Here are five short stories about neighbours for you to read.
Eva is a little frightened of one of her neighbours. He is strange. But one day, something happens to change Eva's opinion.
Brent's neighbour is on vacation. The house is empty. So why can he hear a knocking sound on the wall? Brent has a shock when he goes to investigate.
Bryan loves living in his quiet house. There are big old trees in the garden. But not everyone likes the trees. Someone makes trouble for Bryan. Bryan has to fight to stop the troublemaker and save his trees.
Everyone loves Skippy. She thinks her neighbours are lonely, so she has an idea to make everyone happy. Will she succeed?
The house next to Katy is empty. So what are the strange lights in the house at night? Katy has to act quickly to save somebody's life.