English Graded Readers
Home » English Graded Readers » The Kindness of Strangers
The Kindness of Strangers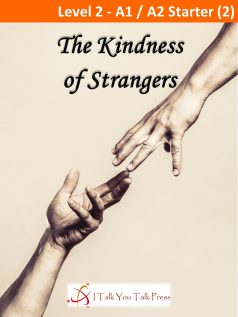 Life can be difficult, but sometimes strangers help us. People we don't know are kind. It is surprising. It makes our hearts feel warm. Maybe we will never see them again, but we will remember the day when a stranger was kind.
In this book there are five stories about the kindness of strangers. Jenny is in the supermarket with her young son. She has a big problem, but a kind stranger helps her. One family has a terrible Christmas morning. A young girl from across the road wants to make their Christmas special, so she does something very kind. Max is a taxi driver. When a customer leaves something in his taxi, he wants to return it. But can he find the customer?
Enjoy these and two more stories!