Home » English Graded Readers » Level 3 » Roger's Long Ride
Roger's Long Ride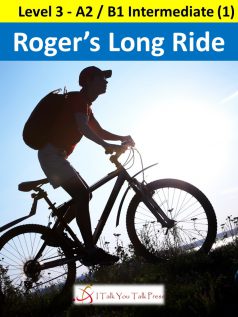 Covid 19 changed daily life for everyone. In San Francisco, it changes the life of a man called Roger.
In two days, he loses his job, his girlfriend, his home and his car. But a message on a calendar gives him an idea. He decides to cycle to his hometown of Medford and start a new life.
Join Roger as he rides from California to Oregon. He meets old friends and new people – some are nice and some are not so nice.
He finds friendship and kindness. But there is mystery too. Who is the strange young woman and why is she hiding?
This book shows us that even when life is very difficult, there are always good people and happy results.