Home » English Graded Readers » Level 3 » Wintertime
Wintertime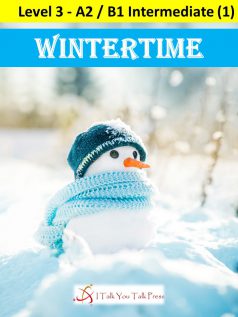 There are five stories about winter in this book.
The forest is a dangerous place in winter, but Stefan takes his dog there. There is an accident. What will happen? Can anyone help Stefan? Or will he die alone in the forest?
Everyone thinks Shaun can become an Olympic skating champion, but the local council wants to close the ice rink in his town. Shaun can save the ice rink, but it is a big responsibility for a young boy. Can he do it?
Alan and Keith go camping on a mountain. But the mountain is special. It has secrets. When the weather changes, they see something very scary…
Enjoy these and two more stories about wintertime!